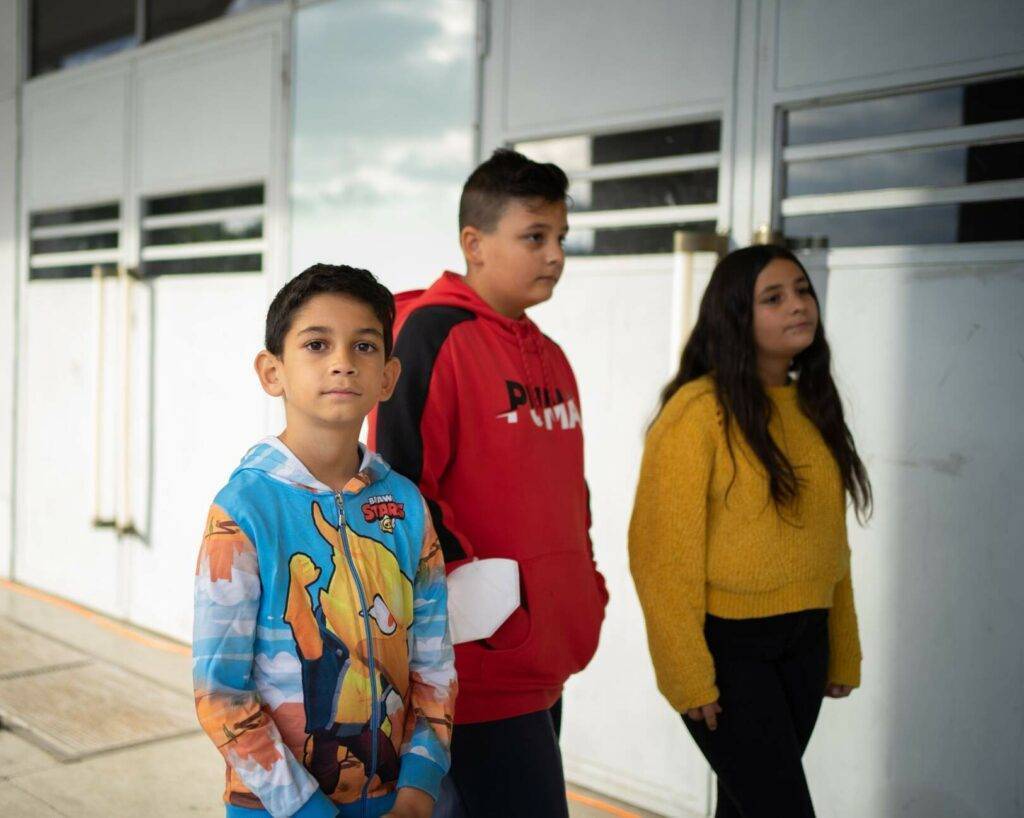 Mission: 
We support Prague youth in searching for their own identity and actively participating in society.
Values:
Courage to react to the times
We respond to the challenges of today, and to the themes of young people for whom we want to be attractive. We are creative and we have the courage to move forward. We are not afraid to call attention to current problems in the localities where we operate, and to open a discussion about possible changes.
Professionalism
We have a clearly defined goal, boundaries, structure, (work) processes, and employee competencies. We work according to our own methodology that we continuously adjust with regard to legislative changes and the needs of our target group and organization. We consider the diversity of our team to be important and we value the qualities of individual employees. We constantly learn and share our experiences in the field of youth work.
Partnership
We rely on mutual trust, support, and the ability to have open discussions. We emphasize teamwork and joint problem solving. We respect the individuality of each person. We listen, we do not judge, and we are open to constructive criticism.
We are Beztíže, a specialized department of the Youth Centre in Prague 3 – Ulita that has been operating since 2001. We run two free and accessible clubs (we call them low-threshold clubs), and three street-based social work programs for at-risk youth. In addition to social services, we provide preventive programs that inform, develop, and support young people in finding their own identity. We do not shy away from the problems they are dealing with; on the contrary, we try to offer ways to solve them. We believe that the fewer problems individuals have, the fewer society has.
During the year, we organize several events in a safe environment where children and youth can meet new people, try various activities, meet role-models and idols, or publicly showcase the talents and skills they have learned through our regular or one-time workshops. Our program is also intended for the public, who can learn about our services and learn to view our target group — whom they often perceive negatively — in a different light.
Several times a year we also lead preventive excursions outside of Prague, through which participants can experience activities ranging from adrenaline sports, art therapy, trips into nature, sleeping away from home, or farming, all with a large group of fellow participants. For some, this is their only opportunity to experience these kinds of adventures. During the year, we prepare other experiential activities focused on inclusion and crime prevention, such as sports tournaments, escape room games, visits to cultural events, and more.
All these activities would not be possible without the full support of our team. Since 2010, we have been using assessment center techniques to select the most suitable candidates to fill our positions. We also pay attention to professional approach. We provide our team with access to supervisors – psychologists, who help ensure that we address our own needs as professionals in doing this work. We follow our own methodology that we continuously adjust with regard to legislative changes and the needs of our target group and organization. We regularly educate ourselves and draw inspiration from home and from abroad.
To expand the scope of our activities, in 2015 we established the nonprofit organization Beztíže, z.ú., through which we provide some of our programs and can support a wider group of young people.
Who Beztíže Supports
As part of our preventive and inclusive programs, we work with all young people in our established localities. We provide information, support creativity, connect various social groups, and in doing so create conditions to support the well-being of our local communities as a whole.
Beztíže supports young people aged 6 to 26 who live in Prague 2, Prague 3, Prague 10, and the surrounding area, who meet at least one of the following criteria:
They are looking for an alternative to the way they currently spend their free time, and they are interested in their self-development,
They are more vulnerable to adverse social events (for ex.: unstable family backgrounds, environments with increased consumption of addictive substances)
They find themselves in difficult life situations (for ex.: imminent institutional care, pregnancy, parents serving prison sentences, difficult divorce)
They may find themselves in conflict with their social environment or social norms (for ex.: disciplinary offenses, crime, aggression)
These are children and youth who specifically spend their free time outside of their home — in the streets, parks, shopping centers — living in higher-risk conditions. They might not have motivation or means to attend extracurricular activities, and their boredom might lead them to more dangerous forms of entertainment. The young people with whom we work are often dealing with problems at school, with friend groups or family, with addictive substances, and similar topics. However, they are also people who do not as easily get the opportunity to develop their own potential and achieve the realization of their life dreams.
Our goal
Our goal is to improve the social skills of young people, to help them in overcoming difficult life situations, and to teach them how to better manage their daily lives and navigate their social environments. We try to reduce social handicaps and lower risks that might arise from their lifestyles. We also lead children and youth towards taking an active approach to their life, and towards acting independently and responsibly. We help them to develop their talents, and support them in their personal goals and successful involvement in society.
We maintain stable services that reflect the current needs of youth and the local community based on almost 20 years of activity and knowledge of the specific environment of Prague 2, Prague 3, and Prague 10, and thanks to mutual respect and trust in the Beztíže programs.
Our Principles
We create an environment for safe entertainment, relaxation, and personal development. Our preventive work is based in particular on young people's trust of our professional staff and our long-term continuous activities in favor of youth.
We offer and provide services according to "low-threshold" principles, meaning we work to ensure maximum accessibility by removing temporal, spatial, psychological, social, and financial barriers that might prevent access to our programs. While our services are easily accessible, we also adhere to some basic rules. We sign a service contract with each client that clearly states what the program includes.
Low-Threshold Principles:
Anonymity: Our clients do not need to share any personal information with our staff if they do not want to. Our services can be provided anonymously (the client is registered under a 12-digit code).
Accessibility: The time and spatial availability of our services. Clients can use our services anytime during working hours, which are adapted according to the interests and availability of youth (each individual Beztíže service distributes information through their leaflets, website, and Facebook page).
Free: Our services are provided free of charge.
We are driven by a philosophy in accordance with Act No. 108/2006 on social services and the quality standards of social services. We also regularly cooperate with other low-threshold clubs and programs for children and youth. Thanks to this, our work is not only a professional social service covering primary, secondary, and tertiary prevention, but also consists of social-pedagogical work and supportive leisure-time offerings (preventive excursions, workshops, motivational events, etc.).
To read what our clients say about us (in Czech), click here.
To read our Annual reports (in Czech), click here.